MOTORCYCLE ACCIDENT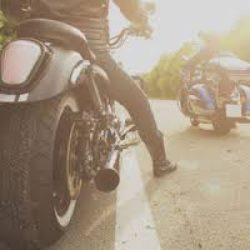 As a fellow motorcycle rider, I know what it's like not knowing who will or won't pull out in front of you. The Midwest is a beautiful place to ride a motorcycle.  The Tri-State boasts some of the best scenery around. Indiana is the in the heart of America, but that beauty makes it populated and dangerous. As an Evansville motorcycle accident lawyer, I've handled countless claims for motorcycle riders. Whether we are protecting a rider's rights through aggressive representation, helping someone get back on a bike after a wreck, or assisting a rider in navigating the legal system, I am committed to nothing less than competent representation of bikers from all walks of life. Contact us for a free consultation or stop by our office. We're ready to help.
TWO-WHEELED VEHICLES POSE UNIQUE RISKS
While it may be true that every vehicle out on the road is at risk of being in a collision, motorcycles and other two-wheeled bikes have added dangers:
Maneuvering – motorcycles, mopeds, and scooters are often times much more difficult to drive than other vehicles. They are more susceptible to over and under steering. Sometimes small animals, objects, or even children make their way into the path of a motorcycles. Lastly, at lower speeds, motorcycles are slower at responding to steering inputs and require more balance.
Multiple Brakes – Most two-wheeled bikes are equipped with a front and back brake. Many times riders forget or don't have time to use both brakes when attempting to make sudden stops.
Less Visibility – Motorcycles by nature have less surface area than cars or trucks, making them harder to see.
Faulty Equipment – When products fail and cause harm on a motorcycle, it can be catastrophic.
Statistics – Find Indiana Motorcycle statistics here
MOTORCYCLE ACCIDENTS RESULT IN SEVERE INJURIES
Motorcycle riders are more vulnerable and exposed than auto passengers. Many motorcycle accidents result in serious death or injury. The National Highway Traffic Safety Administration, has said that a motorcycle rider is eight (8) times more likely to be injured and thirty-seven (37) times more likely to die in an accident than the passenger in a car accident. An average of almost 100,000 motorcycle riders are injured in riding accidents each year.
MISCONCEPTIONS ABOUT RIDERS
There's a tendency to blame motorcycle and moped riders immediately after an accident. There are classic notions of bikers being reckless and inattentive by nature. In my experience, motorcycle riders and bikers are some of the safest drivers around. Motorcycle riders should enjoy all the same rights and protections of their automotive counter parts. As a personal injury lawyer, I will take every step necessary to increase your likelihood of success. The best part is, if I don't win your case, you don't pay my fee. I am always available and give every fellow motorcycle client my personal telephone number. If you have a question I have an answer for it. If for any reason you are unable to come to me or can't make it to my office, I will come to you. Don't face the idea of going up against the insurance companies and corporations alone. Let me fight for you while you concentrate on the more important things ahead of you, like healing and moving on. I will work to ensure you get everything you need to put your life back to the way it was before your accident.
TALK TO AN EVANSVILLE MOTORCYCLE ACCIDENT LAWYER
In order to recover compensation for injuries sustained in an accident, the law of negligence requires you to prove that the crash was due to the fault of the other driver. An investigation into a vehicle accident is usually complex and requires a skilled Evansville motorcycle accident lawyer. To prevail in your claim, you need to preserve evidence from the crash as soon as possible and locate potential witnesses to the accident. Motorcycle accidents are unique and require a certain level of attention and care. Talk to an attorney right away to recover the most you can and maximize your damages.
HAVE YOU BEEN INJURED IN AN ACCIDENT
If you've been injured in any type of accident, it's time to take action against the party at fault. Someone else's negligence shouldn't cost you thousands in medical bills. You deserve compensation for your injuries. I am committed to helping those who've been injured. Having dealt with insurance companies for several years, I've become familiar with the tactics they use to try and convince victims to settle for significantly less than they deserve.With Schnepper Law on your side, you'll have a passionate attorney fighting for the best outcome possible. As an Evansville motorcycle accident lawyer, I've helped numerous individuals with their claims, and will give your case the personal attention it deserves. We will fight for the resources you need to recover.
You're in pain. Your bank account is in dire straits. And it's all because of something you had no control over. It's time to get the compensation you deserve for your pain and suffering. With a qualified Evansville motorcycle accident lawyer, you'll have someone fighting for the best possible outcome to maximize your recovery. If you've been injured in a motorcycle accident or any other type of accident, call my office or fill out our online form to schedule an appointment. If you are unable to make it to us, I will come to you. I am always more than happy give you a free consultation.
Jeremy Schnepper- Your Evansville Motorcycle Accident Lawyer