CAR ACCIDENTS
Thousands of car accidents happen each year and though they are common, they can be life changing. But the change brought about by an accident doesn't have to be permanent. Insurance companies aren't evil, but they are in the business to make money. Which means paying you as little as possible. After you've been in a car accident, it is import to contact a personal injury lawyer as soon as possible. There are limitations when you file a lawsuit that many people may not be aware of. Under Indiana Law, you must file a personal injury claim within two years of the date of the accident. If you fail to file a law suit within the given time period, your claim may be lost forever.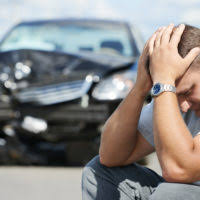 WHAT IS MY CASE WORTH?
This is a common concern for many clients. The truth of the matter is that every person and every case is different. Many factors contribute to the value of your damages in a car accident. It is impossible to predict how much a judge or jury will award in a matter, or how much an insurance company is willing to pay for settlement. One universal truth is that you are far more likely to increase your recovery with the help of an Evansville car accident lawyer, than you are alone. As long as I've been a practicing attorney, my goal has been to get the most compensation possible for my clients. When you have me as your lawyer, you are in control of your case. If you feel the insurance company isn't giving you what you deserve, I will gladly file your case and stand by your side at trial.
HOW YOU CAN PROTECT YOURSELF
If you haven't listened to anything else, the most important thing you should pay attention to is this- contact a lawyer as soon as possible. Without an experienced attorney at your side, you could risk being taken advantage of by an insurance company. There are steps necessary to take early in order to maximize your recovery. It is imperative that car accident victims document medical expenses, missed time at work, property damages, and other vital pieces of evidence you'll need later on. Secondly, it is important to avoid speaking to or making recorded statements to an insurance company. Adjusters are trained to record conversations from injured parties so they can be used later at trial. With the help of counsel, I'll make sure you get the assistance you need immediately to preserve evidence, solidify your claim, and avoid any initial mistakes.
COMMON INJURIES IN CAR ACCIDENT
No matter the cause of your automobile accident, your injuries are a primary concern. Every accident is different and so is every client. As an Evansville car accident lawyer, some of the most common injuries my clients suffer on the roadway include:
Head, neck, and back injuries
Cuts and bruises
Broken bones
Internal bleeding and damage
Nerve damage and Paralysis
Find yearly car accident statistics for the State of Indiana at: Indiana Crash Data by County
WHAT SETS SCHNEPPER LAW APART
If I don't win your case, you don't have to pay my fee. I am always available and give every client my personal telephone number. If you have a question I am there to answer it. If you are unable to come to me or can't make it to my Evansville office for whatever reason, I will come to you. When you retain me as your attorney, you get someone who is by your side every step of the way. My long list of over-joyed clients can attest to the benefits of my commitment. Don't face the idea of going up against the insurance companies and corporations alone. Let me fight for you while you concentrate on the more important things ahead of you, like healing and moving on. I will work to ensure you get everything you need to put your life back to the way it was before your accident.
HAVE YOU BEEN INJURED IN AN ACCIDENT
If you've been injured in any type of accident, it's time to take action against the party at fault. Someone else's negligence shouldn't cost you thousands in medical bills. You deserve compensation for your injuries. I am committed to helping those who've been injured. Having dealt with insurance companies for several years, I've become familiar with the tactics they use to try and convince victims to settle for significantly less than they deserve.With Schnepper Law on your side, you'll have a passionate attorney fighting for the best outcome possible. As an Evansville car accident lawyer, I've helped numerous individuals with their claims. I will give your case the personal attention it deserves. We will fight for the resources you need to recover.
You're in pain. Your bank account is in dire straits. And it's all because of something you had no control over. It's time to get the compensation you deserve for your pain and suffering. With a qualified Evansville car accident lawyer, you'll have someone fighting for the best possible outcome to maximize your recovery. If you've been injured in an auto accident or any other type of accident, call Schnepper Law or fill out our online form to schedule an appointment. If you are unable to make it to us, we will come to you. I am always more than happy give you a free consultation.
Jeremy Schnepper – Your Evansville Car Accident Lawyer